The ONLY Dealers w/FREE Shipping + Installation Assistance & NO Sales Tax!*
Wirelessly Controlled

The Auxx-Lift comes with an easy to use wireless remote control, allowing you to lower & raise your platform from a safe distance.

Auto High & Low Points
Programmable stopping points allow you to set high and low point parameters, preventing your items from hitting the ceiling or floor.
Auto Stop
Lift will automatically stop if remote control ever loses connection or runs out of battery.
Active Press
Button to move platform needs to be continuously pressed to work, avoiding accidental damage or injury.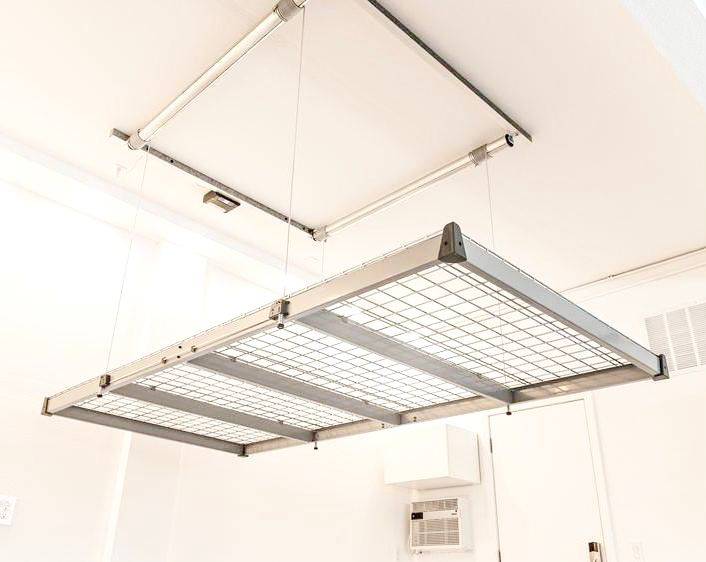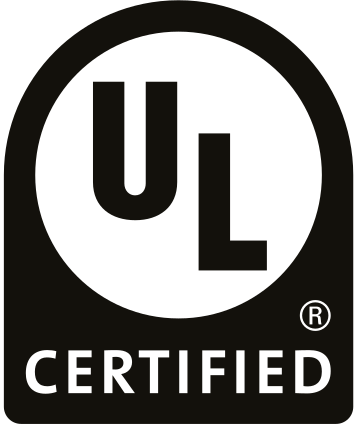 UL-Certified - 100% Passing Score
Auxx-Lift is the only lift that has been tested to the highest UL-Standard requirements with all components having a minimum Factor of Safety of 4x the standard rating.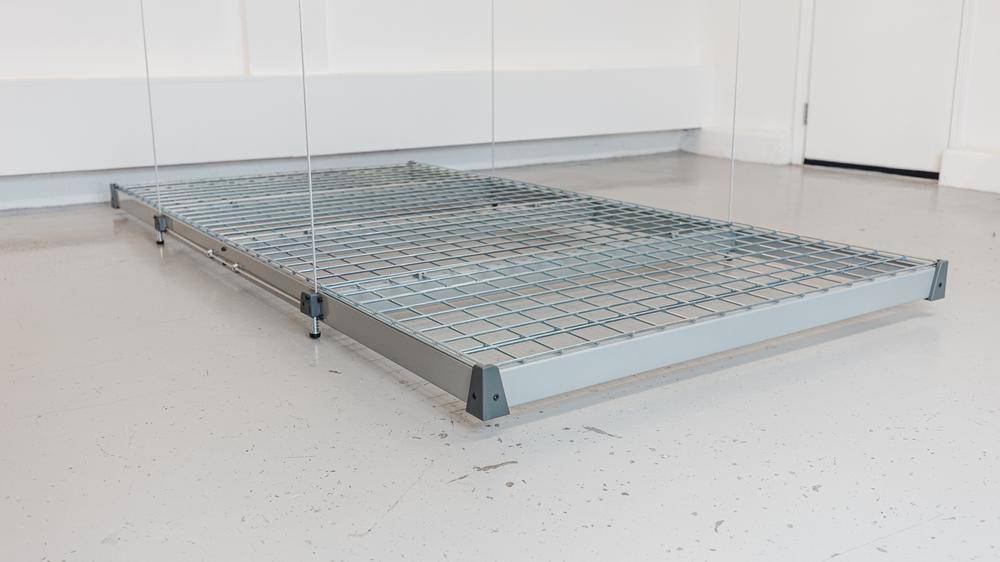 Increases Home Value!

The Auxx-Lift comes with an easy to use wireless remote control, allowing you to lower & raise your platform from a safe distance.
Over 11,000 Lifts Sold!
As an Authorized Dealer & Years of experience, we have brought this patented garage storage technology to more homes than ever!
Easiest & Best Storage Solution For...
Holiday Decorations, Lawn Equipment, Bikes, Kayaks, Ski Gear, Storage Boxes, & More!

Self-Leveling Platform
Differential motor technology automatically adjust the weight distribution throughout to keep platform nearly level even with heavy asymmetrically loading. The controller monitors weight on the platform and will prevent you from lifting/lowering items.

Vinyl-Coated Aircraft Cable
Equipped with Galvanized 7x19 steel cables dipped in Zinc Ammonium Chloride. Then wrapped in a vinyl coating to seal in lubricants & increase longevity. With an ultimate breaking strength of up to 4,200 lbs!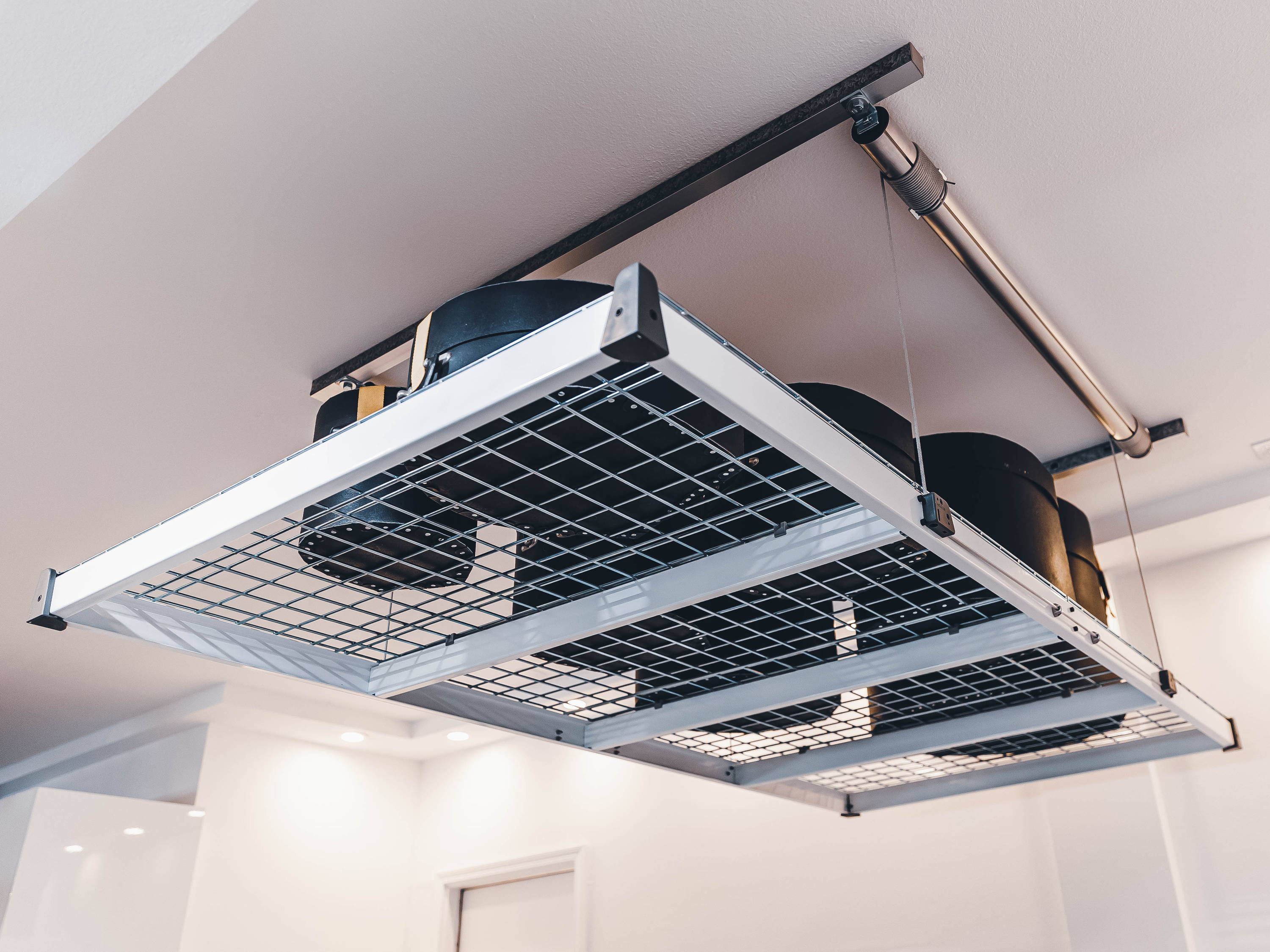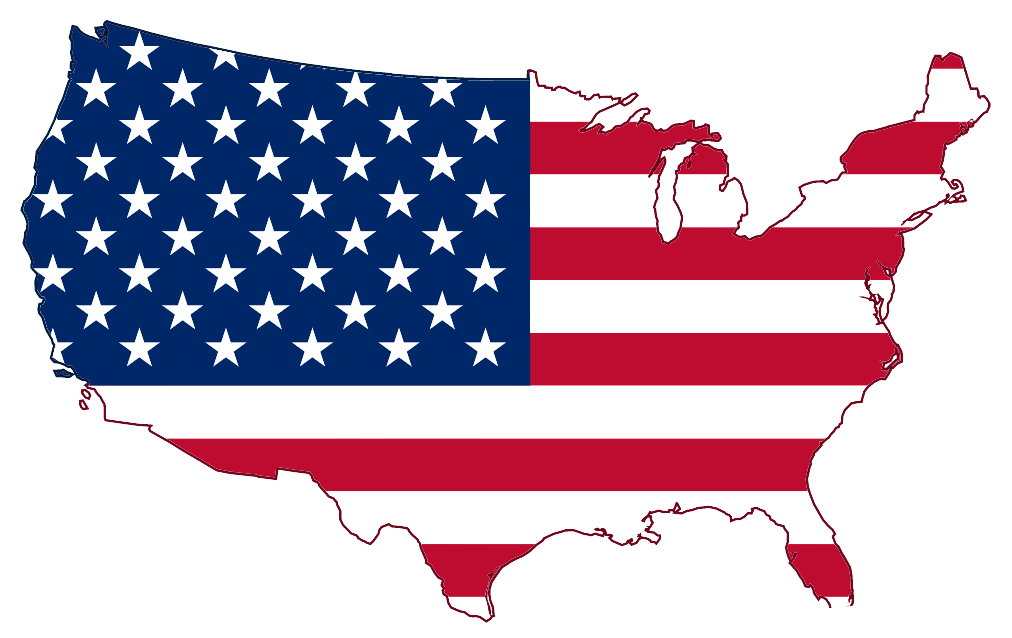 All models are assembled in Moorpark, California, USA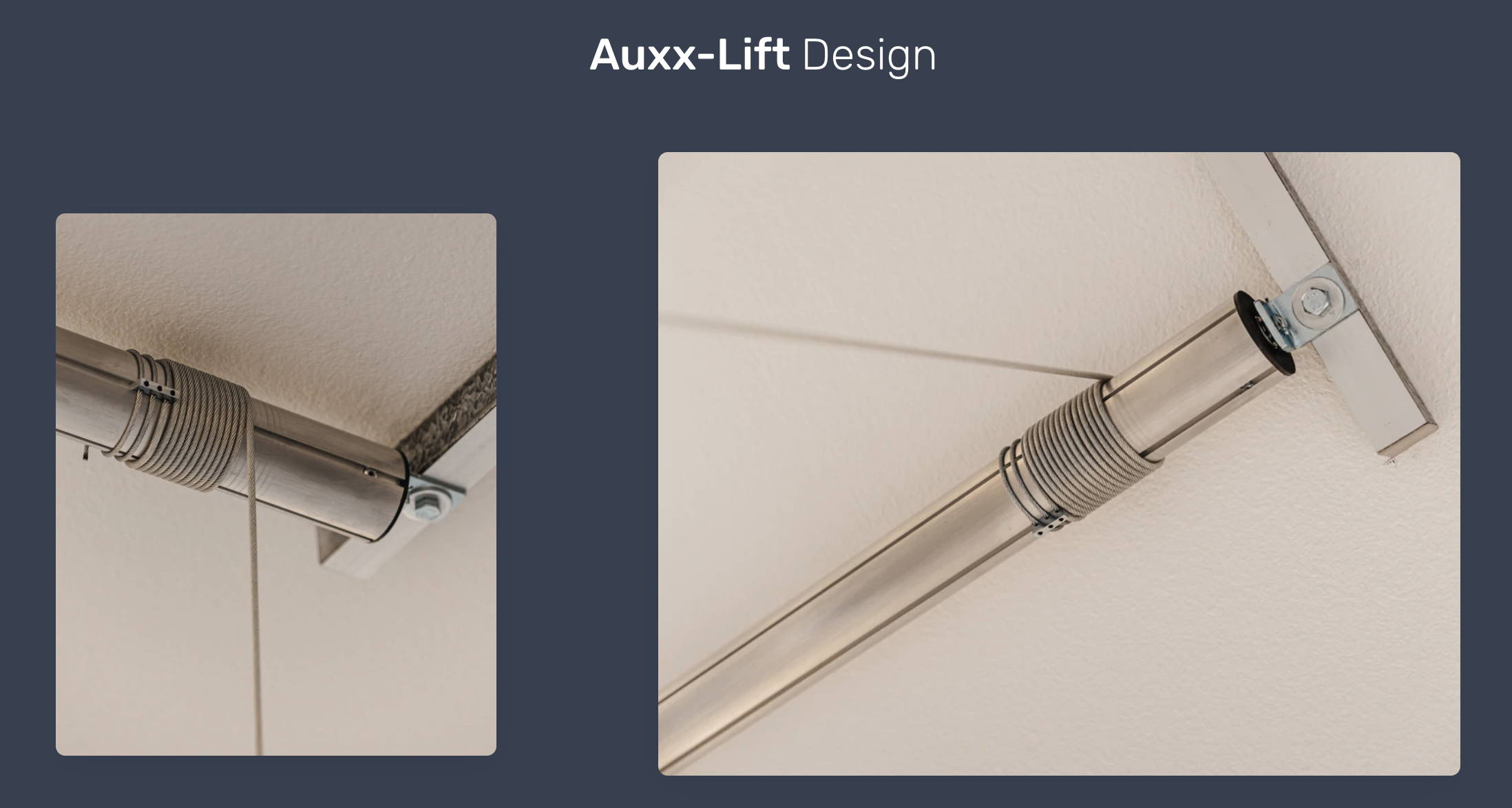 Vinyl-Coated Aircraft cable
We use galvanized 7x19 steel cables. The process involves dipping the wires into a flux solution of zinc ammonium chloride which creates an even protective coating. Each cable is made from 7 strands that each include 19 wires, for a total of 133 wires. The high wire count makes it more flexible and ideal for applications that require tighter and more frequent turns. Furthermore our cables are wrapped in a vinyl coating which not only protects your hands but also seals in any lubrications, increasing its longevity. Cables for the Auxx-Lift 400 and 600 have an ultimate breaking strength of 2,000 lbs and 4,200 lbs, respectively.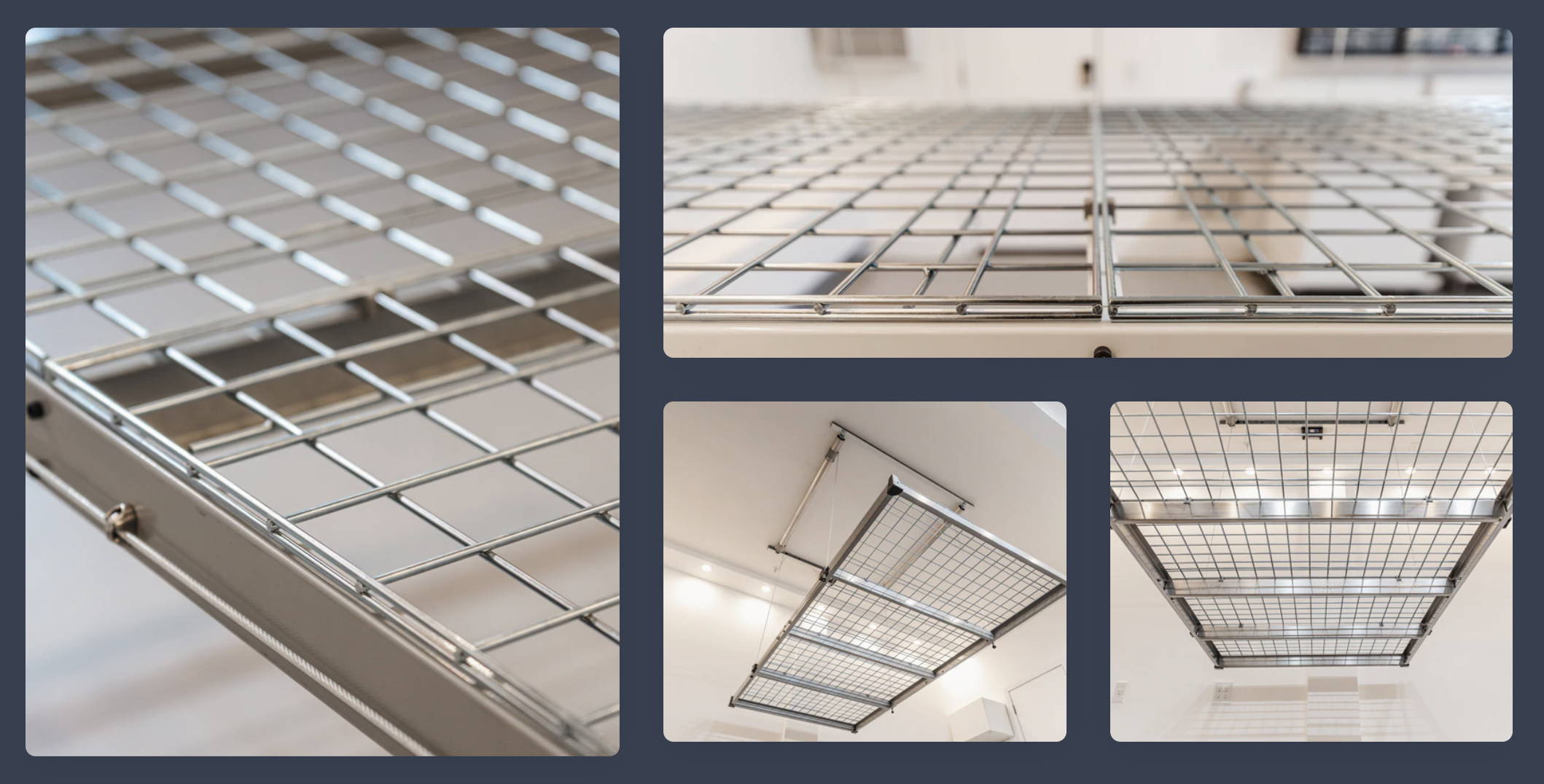 Highly-Durable Mesh
Our decking panels are made from heavy duty 4-gauge (5.5 mm diameter) welded wire mesh that has been hot-dip galvanized to help protect against corrosion and provide rust resistance. The wires are spaced evenly to create 3" x 3" clear opening. The rigid construction make them extremely sturdy. They won't sag or bend like many of our competitor's platforms. The decking panels are supported by durable 1.8 mm thick perimeter support beams and 1.5mm thick interior beams. All beams have a rust-resistant powder-coated finish.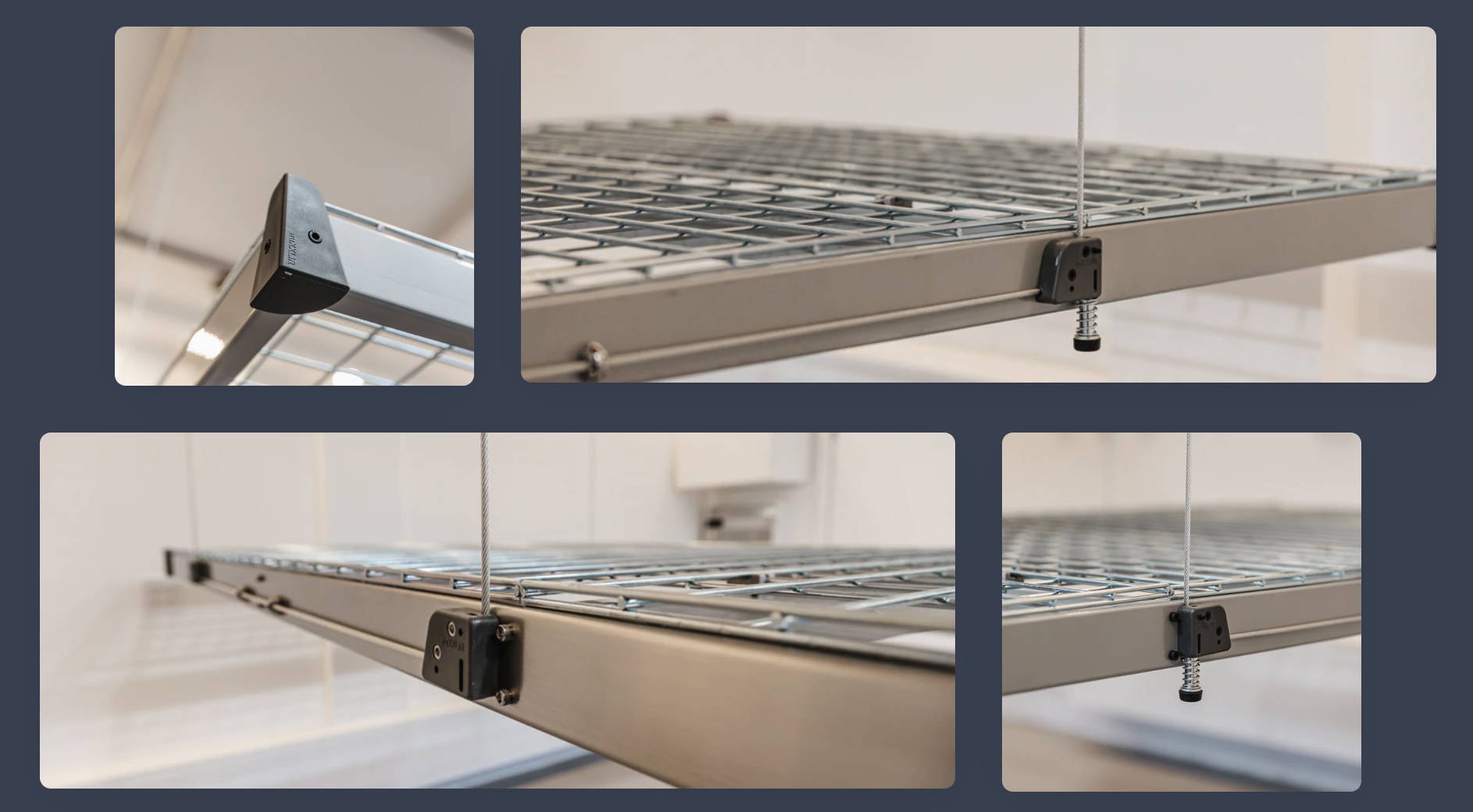 PVC-Free Material
All plastic components are free of PVC (polyvinyl chloride). Despite its prevalence in the industry, PVC is one of the most environmentally harmful plastics. Its production and disposal releases toxic contaminants to the environment. We only use high quality ABS (Acrylonitrile butadiene styrene).

AMAZING CUSTOMER SERVICE! "Since I was moving into a new house at the time of purchase, and had no idea how to install it, I had a lot of concerns. Russell from Customer Service was BEYOND helpful! He helped me find someone to Install the lift in my area and was available anytime I needed to call him!"



BEST QUALITY LIFT WE WORK WITH!
"As the owner of a General Contractor Company, we have installed garage storage lifts countless times, and this is by far the best quality lift we have ever worked with! My team refuses to recommend our customers with any other lift."

PERFECT FOR QUICK STORAGE ACCESS!
"As a family of avid bicyclists, we have a lot or equipment in our garage, and this lift has made our lives SO much easier! Simple access to everything you need whenever you want it. We use it for both long and short term items we need to access."